The Working Atomic Model Project Update
I began this project several years ago to test Leedskalnin's atomic theories and common core concept. He suggests that the atom is a fractal of the earth and polarized with the same type of magnetic circulation. He presents us with the Perpetual Motion Holder and other evidence as his proof of concept. Here you can get a since of how the project evolved from these ideas: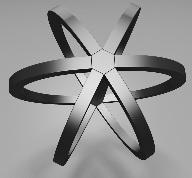 The preliminary phases of the project were done at Purdue's Artesian and Fabrication Laboratory located in the Neil Armstrong Hall of Engineering using state of the art design and machining tools. I was able contract a senior student in Aeronautical and Astronomical Engineering to do all of the CAD and prefab work to get the project off the ground as well as a significant amount of the preliminary machining before he graduated last year. He now works for Space X! However, the project remains incomplete with a lot of work left to do.
My hope was to complete the project on my own dime, but it doesn't seem likely with the amount of expense involved so if you can help support the project please send via Paypal to allforagnes@yahoo.com.
I will be posting project updates here, and if you have any questions please just ask.