My current project, thoughts are, it must be cheap, must be working somewhat right out of the box. Uses here immediate, use HHO as propane like fuel to heat-bend metal for projects.
Construction, using a slip roll form the outer electrode to fit inside pvc pipe, lightly hammer the casing into the pvc pipe, drill tap end caps to connect a 1 1/2 pipe inner bubble collection chamber, drill sidewall to connect outer electrode to dc power, end of center electrode is connected through bottom end cap. For experimenting with this and derusting methods I have used my dc welder as a current supply.. (way over-kill) I apologize for the hillbilly cad drawing. Yesterday when I drilled and tapped the pvc pipe I discovered it is hard to keep the tap straight, it wants to roll over and tear the threads out, once tapped it can hold a poly flow (nytube) fitting. This unit thou it does not have the square inches of electrode plates as the stacked plate units, this is cheap and easy to experiment with.
Operation, using dc power in two electrodes, saline water as fluid, the hydrogen bubbles collect on one polarity electrode, the oxygen collects on the other, a silk screen (trying poly mesh screen wire) directs the Polarized bubbles into two separated chambers in top of unit, oxygen in one, hydrogen in other for remixing and use. The straight mixed HHO is too explosive and easily exploded in unit with back-flash fire (premixed for explosion in quantity) When used as a heating source it is way too hot, would have to be mixed with conventional fuel to cool the combustion chamber. (they mix the current hydrogen-water welding torches with acetone)
Problems, need a way to break the "god particle" holding the water in mix economically, right now it takes more in power in dc current than it produces in Calories hydrogen to burn. Most the (I'd say all the) current HHO claims on youtube about running vehicles off water are BS. With a losing transfer of energy all you could do to utilize this at current technology is to "preload" the car with fuel all night, then use it to drive to work.
EXCITEMENT? seeing the "Tibetan" singing bowl stroked with the mallet, pressure, one direction of mallet on rim, it Charges the water producing a ultrasonic type separation of the water into bubbles.. I want to light them off so bad to see if they pop.. The bowls are from $8 to hundreds on ebay and I as yet don't understand the differences in tones. THE sound appears to release the bond of the water once it is static charged.
OUR country, and the world needs this to work. Hydrogen is dangerous, but so is gasoline. Hydrogen when burned in a torch reverts back to clean water.
Any suggestions on how to make this work better?
A portable operating HHO torch unit.. (not mine)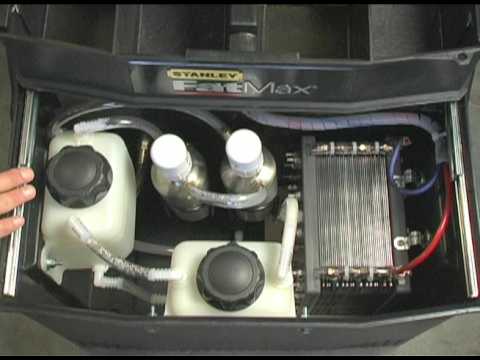 All the current guys on youtube are making wild claims about gas production, remember most of them are using Lye, sodium hydroxide to produce gas.. and you surely don't want to pump that contaminated caustic into a good engine.