The everyday way to decoding Ed's book in every home By: boxerlego
I made this topic to be about the decoding of Ed writings but if I can link with other writings and stuff I will certainly do that and tell the relationship with it. I've been writing up for some time now, years by my count and I plan to make a Youtube video of it and all the stuff I find. I recently made a topic here on the forums about the
The perpetual almanac or The gentleman soldier prayer book
and showed you two common connection between Eds' book and a pack of playing cards now it is time to go further and so even more and how it all connects together so to say.
Now to begin we need to start with why Ed wrote this little book and on Page 14 he did exactly that and coincidentally this is the start of his second subject (Domestic views) that is in his little book. Take special attention to how Ed typed the last sentence out on page 14.
Page 14
In my thirty years of studying conditions and their effects I have come to the conclusion that I can tell pointers to the people that would be a good help to them. That is why I wrote this little book.
By now it should be obvious that this little book Ed wrote has a bigger book to look on much like how a son will look up to his Father. We can already see that we have a connection with the Bible in how the book title is laid out by Ed but how do we find a specific section of the book to open up and read. Well we must first learn how and begin with the first step which is where Ed begins with his Y statement in his little book. Now back to Page 14 and at the bottom this page in the last sentence is where his Y statement is and also is the starting page of his second subject which is his Domestic views. Now in the Bible you begin with a set of Five books. Now instead of picking the second book like most people would be expected to do I decided to pick the last book First and to my surprise it is also called the second law is and is the Fifth book of the Bible. Now this is where and I take special interest on the two numbers 2 and 5 which will been the core of my decoding. Now here is something that caught my eye after the fact which I find very interesting is that the word Deuteronomy in English is the only book that ends in Y just like how Ed does on page 14 in his book and if that wasn't enough coincidences the Letter Y is also the 25th letter of the English alphabet. Now this is where it becomes very clear that ED wanted us to know that 25 is a very important number in divination/decoding of his work. So I open up to page 25 in his little book to see what I can decode here to further the decoding of his little book. Now to page 25.
Here on Page 25 this is where things got very interesting and provided me with clues inside Eds text that I felt pointed to a tool into decoding Ed's book and this tool is a Quarter yes that is right 25¢. Now everyone has seen the picture of Eds ADM 10¢ sign at the entrance of Coral Castle and when thinking about this brought me to the start of Ed's Little book. Page 1
Now when to the start of his little book Page 1 this is where he talks about his Sweet Sixteen and what he meant along with why he did not get the girl and Ed's place. Now upon reading the second paragraph it say and I quote "In Ed's Place, there was a lasting fame for a girl name but it would have taken money to put the fame upon her."
Now this part is very important because symbolically Ed could possibly be cleverly laying forth a hidden code here in that the lasting fame for a girl name is on the quarter and this name is "LIBERTY" and in Ed's Place it going to take money to put the "ever lasting" fame upon her because this is a natural human desire in life. I know what your thinking right now your saying this girl name is not Liberty but there it is on top of the quarter spelled out for everyone to see ever lasting fame for a girl name just not the girl name you had in mind. To me this girl's name can serves also as a code and so its 100 per cent acceptable that there is hidden meaning on the quarter and the name that everyone has been told about through normal means. Now for this to even hold any truth we got to see if that is what a quarter looked like back in 1936 or "Ed's time" and to prove this I google what a quarter looked like in 1936. Here is a picture of a 1936 quarter for clarification and there it is "LIBERTY" exactly what I wanted to see.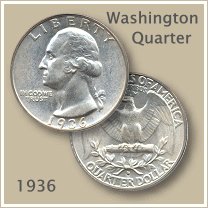 Ok I'm going to stop here and get this part posted.
Any comments, thoughts, suggestions your more then welcome to post something here.